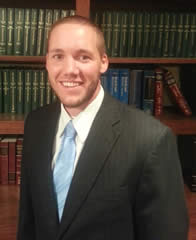 Joshua L. Reid
36 E. Choctaw
McAlester, Oklahoma 74501
Phone: (918) 426-0700
Email: legalreid@yahoo.com
Summary of Qualifications
General attorney with experience in several areas of the law. A strong background in trial advocacy, including but not limited to, criminal defense, administrative law, civil litigation for plaintiffs and defendants, contracts, labor law, ethics, environmental law, wills and estates, consumer law, garnishment, and family law. Licensed to practice law in all State Courts of Oklahoma and the United States District Court of the Eastern District of Oklahoma.
Legal Experience
Konsure Law Firm
Associate Attorney, 2007-Present
Independently handle all aspects of cases from inception through completion.
Conduct initial client screening, trial planning, motions practice, discovery, and legal research.
Formulate opinions and recommendations for clients through the application of legal research in several areas of the law to the particular facts of each case.
Appear in court daily on numerous contested cases.
Manage office staff in the day to day operations of the firm.
Konsure Law Firm
Intern / Legal Assistant, 2005-2006
Maintain close relationships with clients involved in pending cases.
Draft legal documents, specifically including, legal memos, briefs, motions, petitions, discovery requests, discovery responses, etc.
Conduct legal research in numerous areas of the law, apply legal analysis to form a proposed opinion, and draft briefs advising the supervising attorney and/or client of the same.
Conduct settlement negotiations in various areas of the law on behalf of clients.
Education
Oklahoma City University School of Law
Juris Doctor, 2004-2007
Northeastern State University
Bachelor of Science, 2000-2004